Our friendly and compassionate staff will be here to help when you need us most.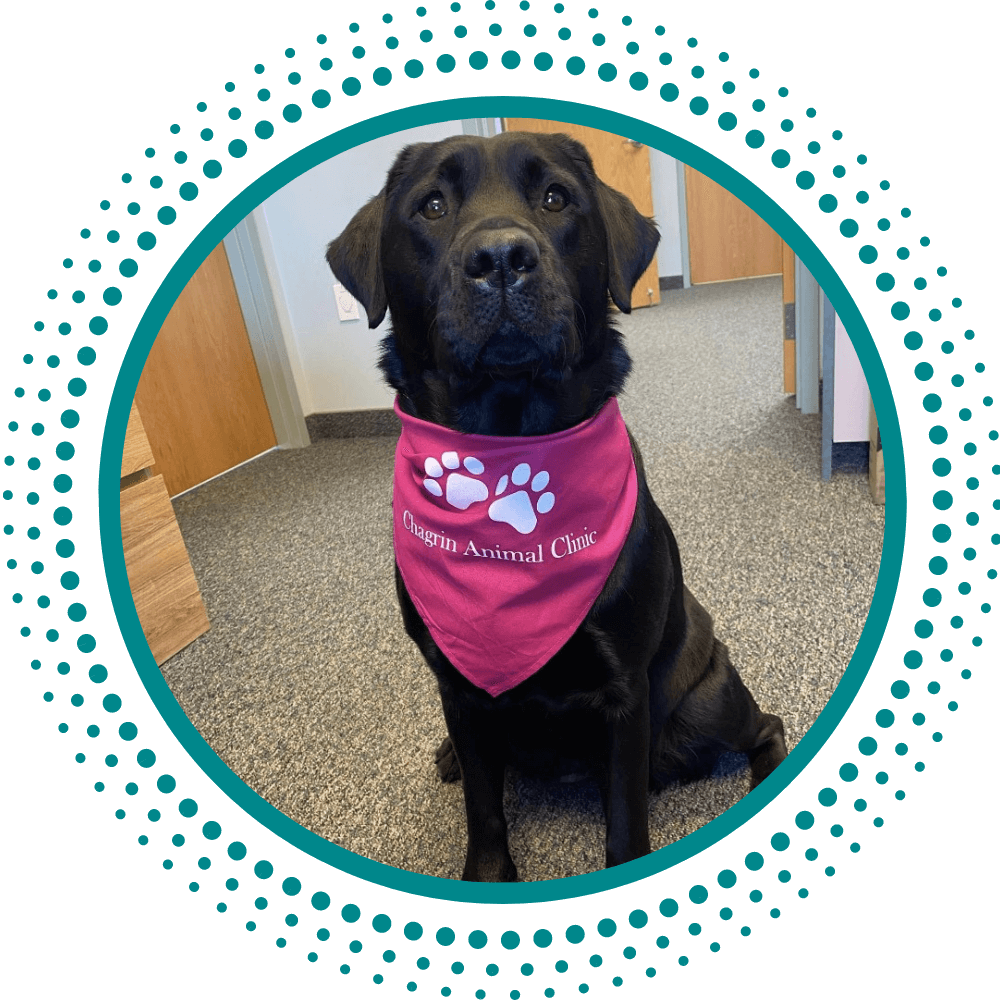 Meet the Chagrin Animal Clinic team!
Lauren Binder, DVM
Managing Veterinarian
As a Chagrin Falls native, Dr. Binder takes great pride in caring for her hometown's pets and their families. Her special interests in veterinary medicine are surgery, geriatric canine health, dermatology, and feline medicine.
After graduating from Walsh Jesuit High School, Dr. Binder's educational road trip began at the University of San Diego, where she graduated with a degree in Biology. The journey continued, graduating from Kansas State University College of Veterinary Medicine, followed by an internship at Equine Sports Medicine and Surgery in Weatherford, Texas. She remained in the Lone Star state for several years practicing small animal medicine in Houston. Then, she made her way back to Ohio to raise her three young boys nearer to family, in the ideal setting of the Chagrin Valley.
When she's not at Chagrin Animal Clinic, you can find Dr. Binder spending time with her husband and sons or on the local roads and trails training for marathons and Ironman triathlons. The journey continues, but now from home.
Lydia Rust, DVM
Veterinarian
After graduating from Tulane University with a B.S. in Neuroscience, Ecology and Evolutionary Biology, and obtaining a Master's in Neuroscience, Dr. Rust attended The Ohio State University College of Veterinary Medicine. She has lived in Montana and New York but is happy to be in her home state of Ohio. Dr. Rust enjoys many aspects of veterinary medicine but is especially interested in surgery, dentistry, behavior, and feline medicine.
Outside of work, Dr. Rust enjoys running, hiking, traveling, reading, and gardening. Her 3 cats, Becky, Essie, and James, keep her very busy!
Erin Stitts, DVM
Veterinarian
Dr. Stitts grew up locally in Twinsburg. After graduating from Ohio State University as an Animal Science Major, she attended The Ohio State University College of Veterinary Medicine.
She loves Columbus but is happy to be moving back to northeast Ohio. Her special interests in veterinary medicine are geriatric health and dentistry.
When she's outside of work, Dr. Stitts enjoys running, hiking, and riding her horses. She has a full house with her husband and four dogs – Marshall, Presto, Emma, and Chai.
Alicia
Practice Manager
Alicia has five years of previous veterinary experience and a degree in Applied Communications from Kent State University. Alicia shares her home with four cats, a bearded dragon, and two crested geckos. In her spare time, she enjoys playing tennis, kayaking, gardening, and traveling.
Jenny
Lead Registered Veterinary Technician
Jenny has her Bachelors of Science in Environmental Geography from Ohio University, and then went on to complete Cuyahoga Community Colleges' Veterinary Technology program in 2010 and has worked as an RVT since. She came to Chagrin Animal Clinic in 2016 where she has since been a dedicated member of our team. When she's not at work, Jenny enjoys hiking with her four dogs, horseback riding, gardening, and reading.
Andrea
Registered Veterinary Technician/Lead Surgical Technician
Andrea graduated from Cuyahoga Community Colleges Veterinary Technology program in 2002 and began working for Chagrin Animal Clinic in 2004 as an RVT. She was with the clinic in its early years in its old building on Chagrin Rd and has thoroughly enjoyed working in the updated, new facility. In her spare time, Andrea enjoys tending to her many animals, taking her beloved Rat Terrier, Finn to agility, and riding horses.
Courtney
Registered Veterinary Technician
Courtney is a Cuyahoga Falls native and graduated from Brown Mackie College in 2016 with a veterinary technician degree. Courtney worked in rescue for the past 9 years prior to joining the Chagrin Animal Clinic team. In her spare time, Courtney enjoys spending time and doing activities with family and friends.
Erin
Veterinary Assistant
Erin joined our team in November 2021 and is currently attending school to become a registered veterinary technician! She spent 14 years in human medicine before finding her passion of caring for animals. In her free time, she loves hiking with her son and goldendoodle Daphne, seeing movies, and reading a good book! 
Jonai
Veterinary Assistant
Jonai is currently attending Cuyahoga Community College and then plans to pursue Registered Veterinary Technician schooling. Jonai has many years of experience as a dog groomer. In her free time, Jonai enjoys spending time with her two fur babies, hiking with her dog, reading and snuggling with her cat, and watching movies.)
Michelle
Registered Veterinary Technician
Michelle has her Bachelors of Science and Biology degree from Cleveland State and is preparing for graduation from Penn Foster this summer for her Veterinary Technician degree. She enjoys being around animals, reading, crafting, hiking with her dog, and being on the lake. She has a 4-year-old rescue Golden Retriever named Henry and two aquatic turtles, Penny and Peso.
Donna
Client Services Representative/Veterinary Assistant
Donna joined the Chagrin Animal Clinic team in 2019 after moving to Ohio from Flagstaff, Arizona. She has 16 years of veterinary field experience. Donna shares her home with her four dogs and two cats. Donna loves her job because working with animals warms her soul. She loves spending her free time with her two daughters, Cheyenne and Denver, and doing outdoor activities such as hiking and kayaking.
Angie
Lead Client Services Representative
Angie joined the Chagrin Animal Clinic team in March 2021 and has over 15 years of reception experience working at an emergency veterinary hospital. She shares a home with her husband, daughter, two dogs, and six cats. While away from work, Angie enjoys taking care of her fur babies and spending time in Chautauqua, New York, where her family likes to go camping and ride on their pontoon boat with friends.
Josh
Veterinary Assistant
Josh is originally from Chardon and has been in the veterinary field for 8 years.  He has three dogs of his own – Rex, Xena, and Juniper.  Outside of work Josh enjoys taking his dogs for walks, going fishing, and spending time with family.
Kate
RVT
Kate is a registered veterinary technician that comes to Chagrin Animal Clinic with experience in both general practice and emergency veterinary medicine. She graduated from Kent State Trumbull's veterinary technician program in 2019 with an associate of applied science. She then went on to complete her bachelor's degree and began teaching for Kent State's veterinary technician program.
She shares her home with 3 dogs- Gunner, Dakota, and Sammy and her 3 cats- Potato, Frankie, and Peeks.
Outside of work & teaching, Kate stays busy with her small farm of goats, chickens, and guinea hens. She is also an avid gardener and apiarist, and enjoys kayaking and boating.